The Very Cleanest Water
Exclusive Cyclonic Filtration.
83% Faster & 20% More Efficient than Skim Filtration Systems.
"Only Spa in the Industry that Filters Floor & Surface".
Coast Spas 24" Waterfall is the Largest Available on Any Hot Tub.
Comes Standard on Curve and Cascade Series Spas
Consumer's Choice Winner
"Best Hot Tub Brand" Awarded by About.com by Consumers.

"World's Only Infinity Edge Hot Tubs"

Unique Patented Design
Coast Spas "The World's Best Hot Tubs"™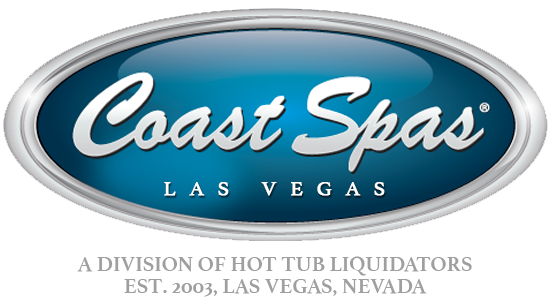 "BUY THE BEST" for less!
All models on display & operating.

We Feature
DESERT PROOF HOT TUBS
Lifetime warranty shells
Fiberglass Cabinetry (Owens Corning)
Structural Foam Insulation (Owens Corning)
Pressure Treated Timber Frame
Commercial Grade Covers
Coast Guard Base Covers
"World's Best Built Spas"® | Coast Spas, a Nevada Corporation
Quality hot tubs and swim spas are the result of the skilled craftsmanship, innovation and engineering that is the Coast Spas brand of luxury high-end hot tubs. If you are seeking the very best in hydrotherapy, entertainment and relaxation then we have a spa for you.
We build hot tubs with TV's and stereos, plug-in hot tubs, hot tubs for massage and hydrotherapy and spas to swim and exercise in. We design hot tubs with vanishing edges, curves, stunning lights, gigantic waterfalls and glowing jets.
Our spas are proven to have the fastest, most efficient filtration systems and Coast Spas® offers salt water generators, UV sterilizers and ozone boosters to ensure you and your loved ones have the most pristine water.We strive to make it easy to get exactly what you want out of your new hot tub, at price that works for your budget. We have entry level models to top-end luxury spas and everything in between.
Quantity will never take precedence over quality. Come see Coast Spa's full line displayed and operating in our World-Class Henderson, NV showroom. Over 125 new and pre-owned spas in stock! Proudly made in Canada with only North American components and shipped around the world, find yourself in a new world of luxury at home. If you want the highest grade hot tub from the world leader in spa innovation, step up to a Coast Spa.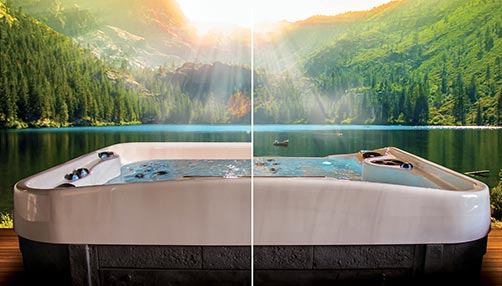 The Luxury of an Infinity Edge Can Be Yours!
Coast Spas builds the only portable infinity (vanishing) edge hot tub. Infinity Spas have zero water displacement and no unsightly telescoping skimmers or filter grates.
Enjoy incredible Las Vegas views, no foam accumulation and no unsightly water line issues, all due to our exclusive, patented design. With the largest waterfall, most efficient skimmer and best view – Cascade Series Vanishing Edge Spas are the ultimate hot tub.
Choose Your Style
Coast Spas has every style of hot tub that you can customize to suit your needs. Each style of spa has models that come in a variation of sizes and seating configurations. As indicated above, we have several spa series in stock, satisfying your personal needs while keeping your budget in check!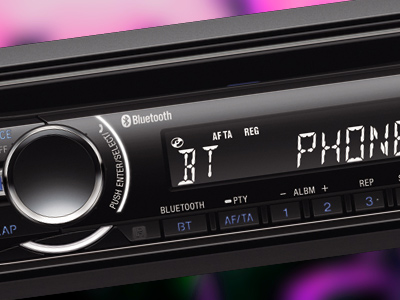 Handfree Talking in your Hot Tub
With the Bluetooth® CD Player and included microphone (patent pending) you can make and receive calls from your spa. Hear the callers voice through the spa sound system as your voice is captured by the Bluetooth® microphone installed on your tub. This feature is only available from Coast Spas.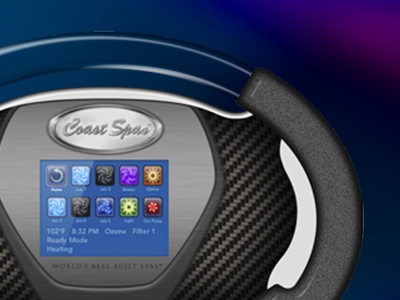 Easy Touchscreen Control of Your Hot Tub
Color Touch Screen Controls. This easy-to-use control panel features a large multilingual color LCD interface with intuitive icons and animations. The outside ring of the topside *lights up and glows the same color as the lights in your spa. *Lighting Package Required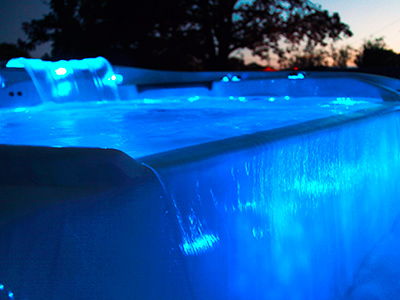 Infinity Edge Spas
Every Spa Comes With Patented Vanishing Edge, zero water displacement, no filter grate design and largest skimmer in the world.
Learn More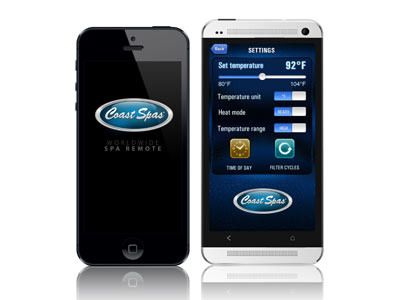 Monitor and Control Your Hot Tub From Anywhere
Adjust water temperature, set filter cycles, activate jets, toggle lights on and off and even sync your spa clock with a touch of a button. This new and innovative application gives you remote control of your Coast Spa® via your smart phone, tablet or smart-device from anywhere in the world.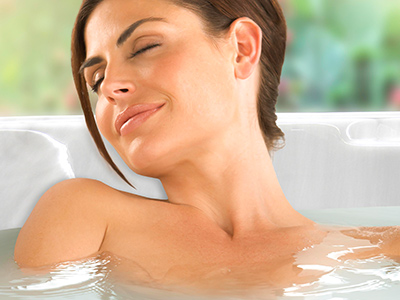 Throw Away Your Age-Defying Beauty Creams
MicroSilk® is a revolutionary skin treatment system that uses oxygen to stimulate collagen production in your skin. Your skin's natural collagen production gradually subsides as you age. This reduction in collagen levels leads to the thinning of your skin which causes fine lines, wrinkles and the appearance of age spots.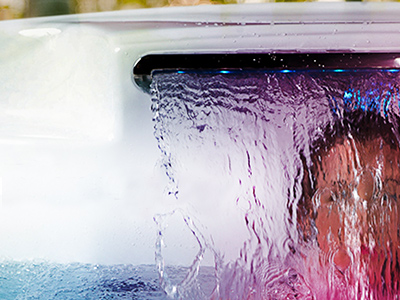 The Largest Waterfall Available on Any Hot Tub
At one time waterfalls were just to add soothing sounds and a relaxing ambiance to your spa. Coast Spas® changes that by putting you into the waterfall, giving you a feeling of pure relaxation and complete tranquility. This continuous blade of water measures a full two feet across and is fully lit with vibrant LED Lights.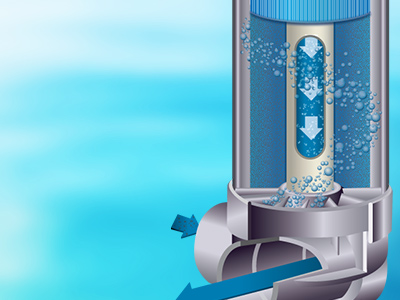 Commercial-Grade Pressurize Hot Tub Filtration System
Exclusively from Coast Spas®. In North America it is law for any commercial establishment to have a closed pressurized filtration system on any public pool or hot tub. Not only is it more efficient and faster than a skim filtration system, it also removes the dirty filter canisters from the bathing area.
Learn More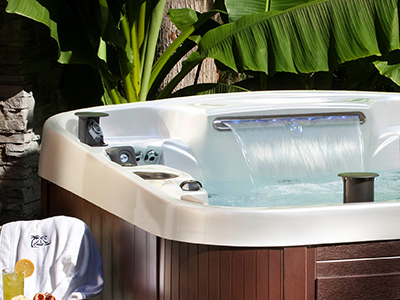 Curve Spas
Our Curve Spas have changed the definition of a hot tub. Why have a conventional spa when you can own a Curve Spa by Coast Spas? The sleek and stylish raised back design gives you protection from the elements as the acrylic shell comfortably wraps you in its warmth, offering both privacy and shelter.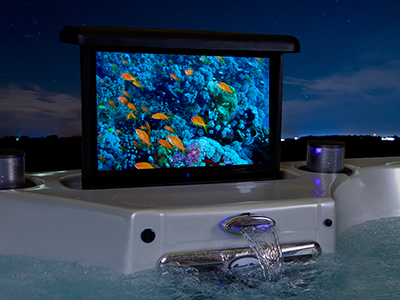 Movies, Sports, Your Favorite Shows, on a Push-Button Retractable LCD TV
At Coast Spas® we have a hot tub for every lifestyle. Those who want the ultimate entertainment spa, that will bring together family and friends, will want to experience our Media Spas. In the comfort of your own backyard watch the next big game, your favorite TV show or DVD while enjoying the ultimate in hydrotherapy treatment.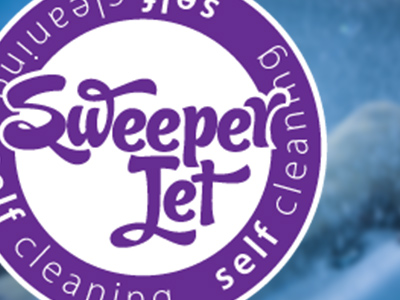 Cleans Right to the Bottom of Your Spa
When you step into your spa, any particles that are insoluble in water that are brought in with you (such as sand) will settle at the bottom of your spa if uncaught by the filter. In all other hot tubs, once these particles have settled onto the bottom of the spa you will have to share your spa with them until either you drain and clean the hot tub, or purchase equipment that will pick them up.Coast Spas saves you all the trouble and money with the Self-Cleaning Sweeper Jet.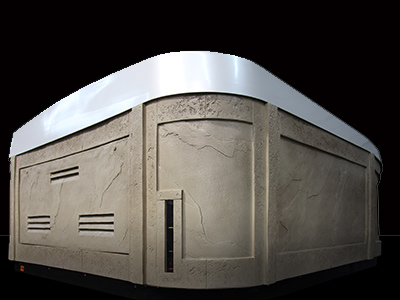 Natural Elegance
Our exclusive Luxury Slate Cabinets are handcrafted and custom molded to your spa. Textured and colored to reflect organic elements, Slate Cabinets are perfect for seamless integration into your backyard. These high-end cabinet styles are not only stunningly beautiful and luxurious, they are maintenance-free and designed to withstand all environmental conditions.
Coast Spas offers two tiered entry steps that match the texture and color of your Slate Cabinet selection.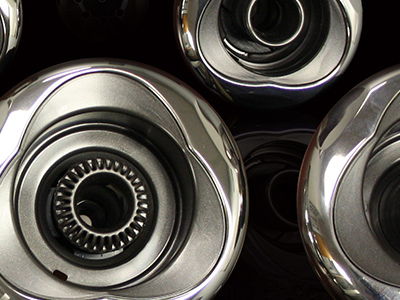 Elegant Adjustable Massage Jets
Our Luxury Trillium Jets have all the quality internal components of the Trillium Stainless Steel Jets, with an updated designer "face". These jets are designed to look incredible against the spa acrylic with smooth lines, multiple textures all wrapped within a stylish stainless steel housing.